ROYAL OEM 0W16 HYBRID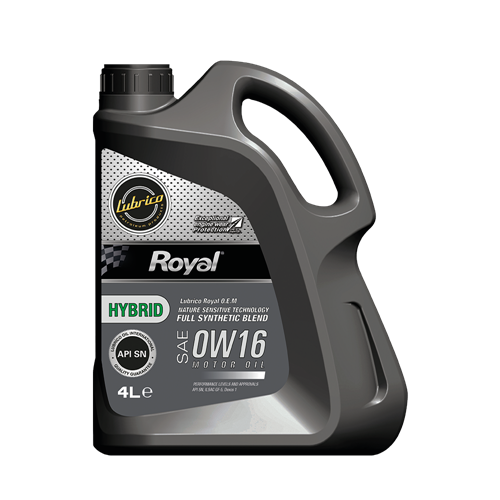 Technical Documents
LUBRICO ROYAL OEM 0W/16 is full synthetic engine oil formulated specically for use in hybridvehicles, to provide outstanding performance in start-stop engines and improved fuel economy. Its specialformula provides good cold starting, lower oil consumption, minimized exhaust emmisions and fuel economy.
FEATURES AND BENEFITS
Provides quick lubrication of engine parts during the start-up, thus protecting the engine against wear due to its excellent fluidity during cold weather conditions.
Maintains its performance during the long oil drain interval recommended by the engine manufacturers thanks to its superior thermal and oxidation stability.
Provides fuel economy thanks to improved anti-friction properties.
THE MEET SPECIFICATIONS AND APPROVALS
API SN/CF, ILSAC GF-5, Dexos 1
Packaging Types