LONG LIFE ORGANIC ANTIFREEZE LG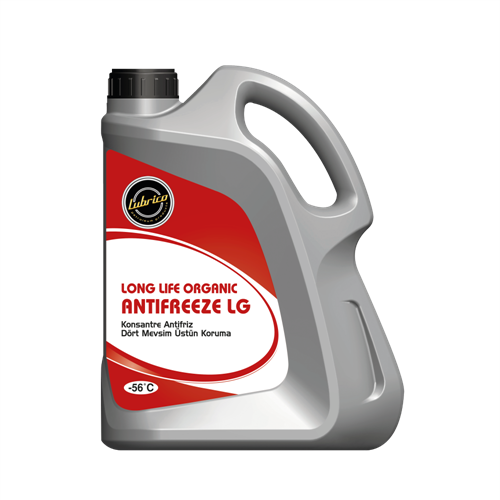 LUBRICO LONG LIFE ORGANIC ANTIFREEZE LG is ethylene glycol based, long life concentrated cooling liquid manufactured by the organic acid technology. Provides perfect protection against corrosion for modern vehicles especially for aluminum and iron alloy engines thanks to its enhanced formula which does not contain silicate.
FEATURES AND BENEFITS
Does not contain harmful additives such as nitrate, amine and phosphate and environmental-friendly.
Provides high protection against frost and heat and has longer life comparing to conventional antifreezes.
Helps to decrease maintenance expenses by preventing malfunctions which may occur in parts such as thermostat, radiator and cooling pump due to corrosion.

Provides outstanding protection against all types of corrosion in engine cooling system of vehicles thanks to organic inhibitors in its composition.
THE MEET SPECIFICATIONS AND APPROVALS
BS 6580 (GB) FW HEFT R 443 (D) Afnor R (D) Afnor R15/601 ASTM D 3306 and 4985, SAE J 1034 (1), JIS K2234 (1) (J) KSM 2142 (K) NATO S 759, CUNA NC 956-16 (I) UNE 26361-88 (E) EMPA (CH) E/L 1415 c MIL Italy, Porsche/VW/Audi/Seat/Skoda TL 774 D/F, Mercedes MB 325.3, Ford ESE M97B49-A, CUMMINS 85TB-2 (1), MAN N Man 248 and 324, Wartsilia 32-9011 (c.w.), Pegaso, GM US 6277 M Renault 41-01-001, Ford WSS-M97B44-C, Chryler MS 9176, Cummins 90T8-4, Mack 014GS17004 Man B&W D 36 5600, GM 1899M (1) Navistar B-1, Type III, Volvo ( Reg. N 260), Ford ESD M97 B49-A Opel GM QL 130100, Leyland Trucks LTS 22 AF 10, John Deere H 24 B1 and C1, Deutz/MWN 0199-2091 2 Auflage (C.W.) Mack 01GS170044.
MIXTURE TABLE
| | | |
| --- | --- | --- |
| ANTIFREEZE | WATER | PROTECTION DEGREE, ⁰C |
| %100 | - | -56 ⁰C |
Packaging Types