ROYAL OEM-4 5W/30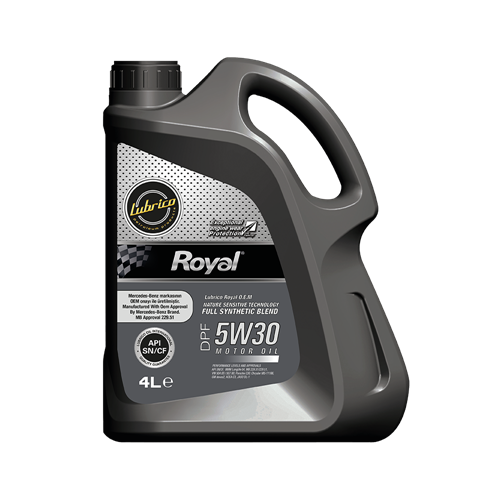 LUBRICO ROYAL OEM-4 5W/30 is a synthetic engine oil designed to help provide excelent cleaning power, wear protection and overall performance. It is manufactured with a special premix combination formulated to be fully compatible with Diesel Particulate Filters (DPFs) and Gasoline Catalytic Conversion Devices (CATs).
FEATURES AND BENEFITS
Provides fuel economy thanks to improved anti-friction properties.

Maintains its performance throughout the oil change interval recommended by vehicle manufacturers due to its superior thermal and oxidation stability,.

Its low volatility reduces oil consumption, thus helping to reduce hydrocarbon contamination.

Protects the engine against abrasion by providing rapid lubrication of engine parts during the first operation thanks to its excellent fluidity in cold weather conditions.
THE MEET SPECIFICATIONS AND APPROVALS
API SN/CF, ACEA C3, BMW Longlife 04, MB 229.31/229.51, VW 504 00 / 507 00, Porsche C30, Chrysler MS-11106, GM Dexos 2, JASO DL-1
OEM APPROVALS
MB-Approval 229.51
Packaging Types