TITANIUM GT-7 5W/40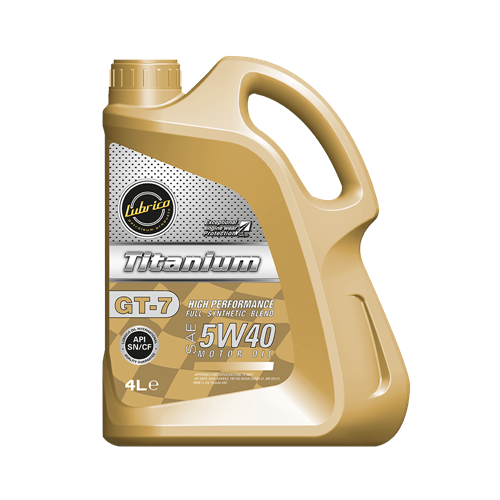 LUBRICO TITANIUM GT-7 5W/40 is synthetic engine oil developed to meet the need of safe and long-lasting use of gasoline and diesel engine vehicles with the latest and modern technology. The formula, which is designed with high viscosity index base oils and new technology additives, provides superior protection and fuel economy in the engine. It meets the requirements of gasoline and diesel engine, passenger and light commercial vehicles. It provides excellent protection and lubrication even under extreme conditions.
FEATURES AND BENEFITS
Maintains its performance thanks to outstanding thermal and oxidation stability during the longest oil change period recommended by vehicle manufacturers.
Shows outstanding performance under variable weather conditions thanks to its high viscosity index.
Protects the engine against abrasion by ensuring fast lubrication of engine parts during the initial operation thanks to its excellent fluidity under cold weather conditions.
Keeps engine parts clean thanks to its detergent and dispersing additives within its formulation.
Decreases oil consumption thanks to its low volatility and thus, helps to reduce hydrocarbon pollution.
THE MEET SPECIFICATIONS AND APPROVALS
API SN/CF, ACEA A3/B4/C3, VW 502 00/ 505 00/ 505 01, MB 229.51, BMW LL-04, Porche A40, DPF (Diesel Particulate Filter)
Packaging Types